We offers highly reliable scientific solutions and consulting, licensing of analytical tools, content sales, and seminars in a wide range of fields by combining data, expertise, and analytical technology, with a focus on water issues in the geosphere.

Solution & Consulting
Problem solving and proposals based on state-of-the-art modeling technology
Since its establishment, we have been unraveling the water cycle phenomena in various terrestrial regions using the integrated water circulation simulation system "GETFLOWS" as its core. As professionals using mathematical modeling and computing technology, we provide scientific solutions with high accuracy by utilizing our acquired knowledge and expertise.
In addition, we provide integrated solutions from investigation to subsequent development in order to clarify the actual state of the water cycle in a natural environment where complex factors affect each other. Our experts build computer models out of the information accumulated to date, and then provide consulting services to meet customer needs through simulation using appropriate analysis tools.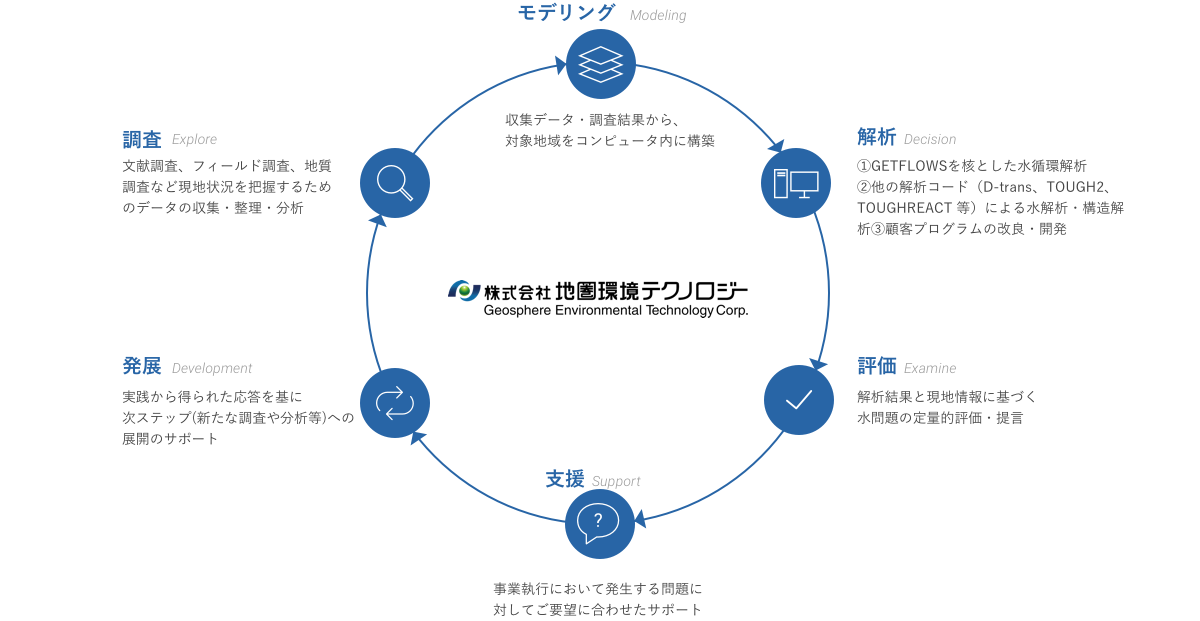 Fields of business
Integrated watershed hydrological cycle analysis will be used to improve the utilization of surface water and groundwater resources and to ensure their stability. We are also committed to providing solutions for the water resources development of overseas developing countries.

Water Resource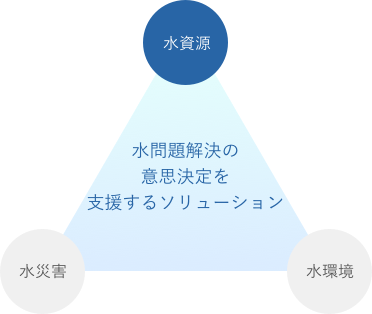 In the context of global population growth and economic development, there is a need for rational and sustainable use of water resources by local governments and private companies in terms of the volume of water resources. We provide solutions for ensuring sustainable usage of surface water and groundwater.

Water Disaster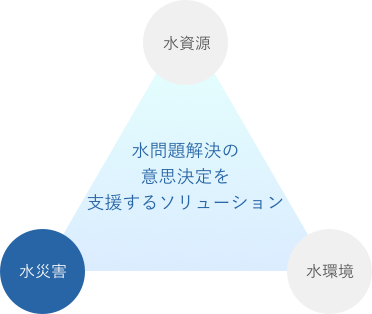 Global warming is expected to increase the size of typhoons and the frequency of extreme rainfalls, causing particular concern about flooding and sediment disasters in small and medium-sized rivers throughout the country. We provide detailed basin water circulation models, pre-disaster prevention and mitigation planning, and real-time basin monitoring information.

Water Environment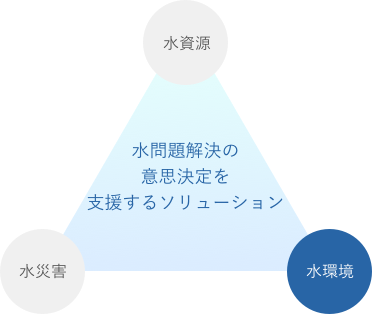 In order to harmonize human activities with the natural environment, it is essential to know the movement of water and pollutants in natural and man-made systems. Our modeling techniques provide the necessary scientific information for proper environmental design.

Licence
We provide licensing and application support for GETFLOWS, one of the most advanced integrated geosphere fluid simulation system. Academic licenses are also available for use at universities and other educational and research institutions.

Contents
We use state-of-the-art modeling techniques to build a large-scale analysis model at the national level, continuously developping and improving programs. As part of the R&D, we publish independently developed content and analysis information based on this model.

Lecture
We regularly hold "Geosphere and Environment Seminars" where experts in various fields give lectures and where our activities are instroduced. We also hold workshops from basic theory to advanced techniques, with a focus on water issues in the geosphere.